The Disaster Artist is a biographical comedy-drama film produced and directed by James Franco. It is based on Greg Sestero and Tom Bissell's non-fiction book of the same name and is about the making of Tommy Wiseau's The Room, which is considered to be the worst film ever made. If any readers want to read the review on that film, click here. It stars brothers James and Dave Franco as Wiseau and Sestero, respectively, and also features Kate Upton, Seth Rogen, Alison Brie, Ari Graynor, Josh Hutcherson, and Jacki Weaver.
The Story/The Direction:
The Room has become one of those films in the realm of "it's so bad it's good" and begs the question of why and how it was made in the first place. This film attempts to answer that question. In an acting class, Greg meets Tommy and they strike up a friendship and move to Los Angeles to become stars in the Hollywood business. Their ambitious goals are hindered by the tough nature of the business and they struggle to find work. Tommy is then motivated to make his own movie and have Greg star in it. After writing it, Tommy uses his apparently limitless amounts of money to buy both 35mm and HD cameras instead of renting them, creates a set of an alleyway instead of just shooting in an alley, and creates a "director only" bathroom with a toilet and sheets. He then begins production on the worst film of all time that was pinned as a drama. Since this film's release, it has gained a cult status due to its stilted acting, nonsensical plotting and the oddness of Tommy himself.
Due to this, this film has some extremely funny moments as Franco recreates some of the most infamous scenes of the film. The ridiculous scenes and choices by Wiseau are questioned by his fellow cast mates and crew just as the audience has been since the film was released. No one knew what was going on inside Wiseau's head but they were happy they were just working on something. The film explains the why as being just a man trying to make it in Hollywood. Most people will go into this film thinking that they will get a laugh at Tommy but by the end of it, you will feel sorry for him.
The Characters:
The Room apparently cost six million dollars to make and no one knows where that money came from. Prior to 2017, Wiseau claimed to be from New Orleans. He is very private about his background and whenever someone would question about it, he would get annoyed and change the subject. In addition to that, he would deny that he had an accent and think he was the greatest thing since sliced bread. If someone or something said anything to oppose this idea, he wouldn't listen to them and keep pushing forward. This is quite an endearing trait in a person following their dream and not stopping no matter how many signs tell you that you should. Franco is supported by his brother playing Greg which was a fantastic decision by the directors. This adds extra chemistry to them that shows the odd yet real friendship between Greg and Tommy. Greg is getting work, is better looking, and has prospects for him outside of The Room and Tommy becomes jealous. Their chemistry adds to the authenticity of the film and their friendship. James Franco is the best part of this film playing Wiseau in a childish, unpredictable, human being with a possible Eastern European accent. As the majority of Franco/Rogen films have been comedies, you would think that this film would be making fun of Wiseau more than anything. However, that is not the case and this film makes you sympathize with Wiseau more than anything else. Franco does not overact to the point of it being a mockery and pulls off a very accurate portrayal of Wiseau. Wiseau, himself, has even signed on to Franco's portrayal. Franco was dedicated to this role and it shows through his delivery.
The Flaws: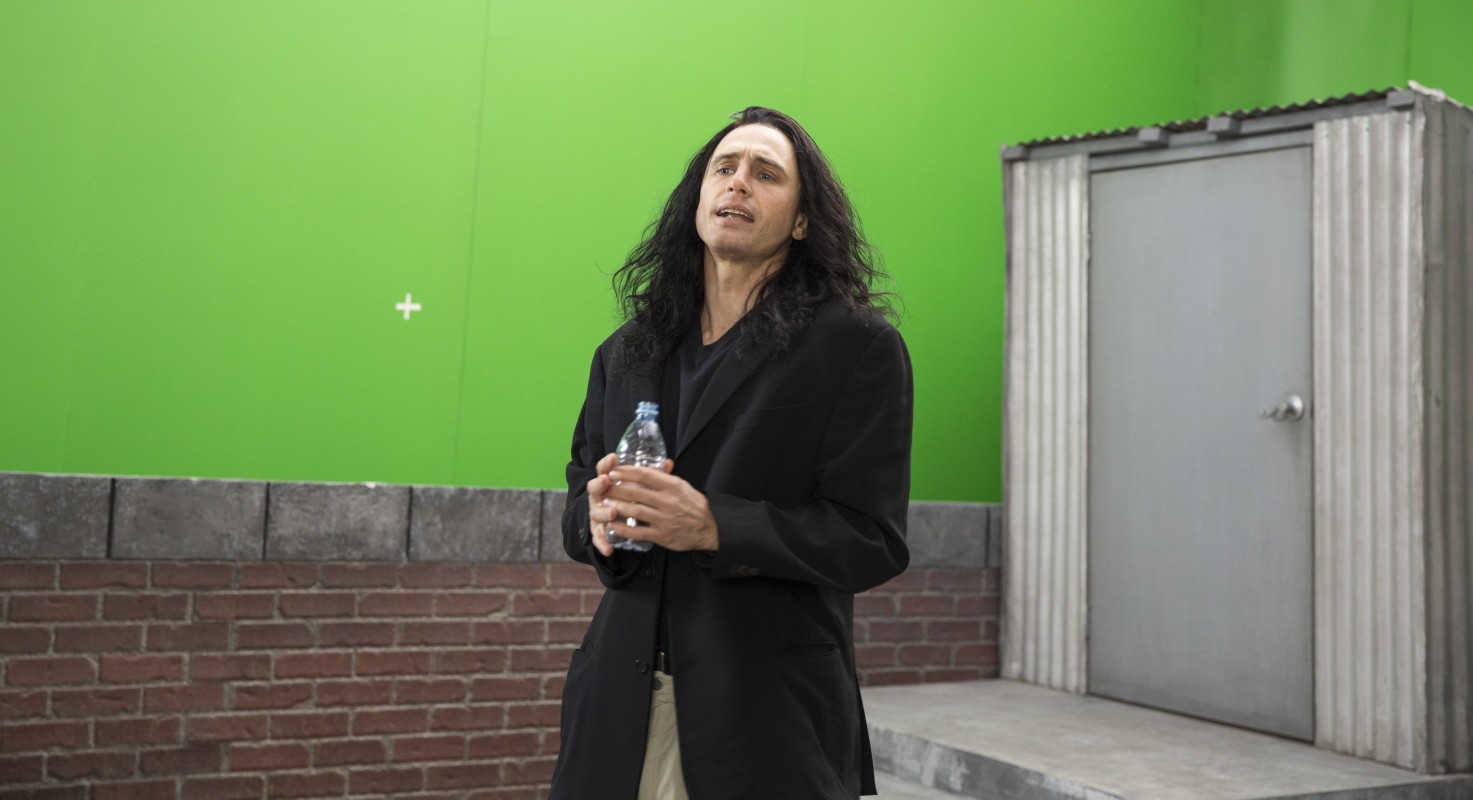 Though the relationship between Greg and Tommy was real and fleshed out very well, no one else was. There were a lot of characters that only existed in the story and that's all. If that's the intention, then that's fine but this film tries to make them more significant than that. For example, there is a character that is played by an actor but his portrayal feels similar to that of a cameo. Since this film is about acting in Hollywood where real people like Judd Apatow and Bryan Cranston (played by themselves) exist, having a character treated like a cameo seems odd. While this film makes you sympathize with Tommy, there are moments that are only there for laughs such as moments dealing with his accent. These ideas are conflicting and can question the overall point of the film. Looking at how The Room has moved from a drama to comedy is very interesting. Anyone with a good head on their shoulders can see the problems with this film. But because it is so bad, it becomes hilarious. Wiseau has now changed his marketing towards the film and he says it is a "black comedy," and "it was always meant to be that way." This is not true and this film supports that. One could make the argument that the story of "making lemonade out of lemons" is a good message and that's what it's all about. People will remember Wiseau's film as being "one of the worst made," that's true. However, is that what anyone wants to be known for? It would seem that Wiseau doesn't as his marketing towards it has changed. If you have a goal of being the best in your craft that you are trying to achieve, changing it based on reactions is not the same as achieving it. It's about doing the best you can, no matter what stands in your way. To pay homage to a story does not do this and play it as an inspirational film is off-putting.
Overall:
Will this film have you laughing? Yes and even more so if you have seen The Room. If you have not seen the original film, it is not 100% necessary but it definitely makes the experience better as you will get a further understanding of how bad the film actually was. Franco does an amazing job as Wiseau could warrant a Best Actor nomination for the role. This film tries to put Wiseau next to Ed Wood but the latter is known for his passion whereas Wiseau is known for his oddness and his mysterious personal and financial background. This film allows you to sympathize with him but also laugh at him. If you're a fan of the original in any way, you'll love this film but you do not need to rush out to see this good film in theatres. At the end of the day, The Room will probably get more watches but after one viewing of The Disaster Artist, you don't have to re-watch the biopic.
Rating: 3.0/5.0 bowties
What did you all think of the film? Let me know in the comments section.
If you want to read my other reviews, click on my logo at the end of the review.
Please also follow me (@TheFormalReview)and @BoxOfficeBuzon Twitter for more reviews and up to date movie news!