Hey BUZ-fans!
This week on the BUZ, we've got a bunch of big stories for you guys to check out, including why we dislike PETA, why we're excited for another Expendables movie (with a twist) and why I'm not too sure about the new Halo 4 live action series. Let's get started.
The Big BUZ: PETA and Pokémon
This week's Big BUZ comes to us from, well, basically every news outlet that nerds have a habit of reading on their free time. That's right. It's a story involving these little guys: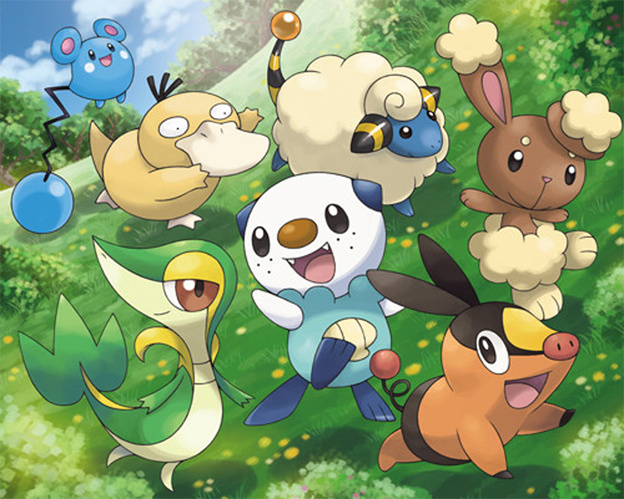 And these people:
Yes, that's right. Pokémon and PETA. Now I'm not exactly sure what PETA's beef is with Pokémon, but they actually created a video game parody of Pokémon Black and White, entitled Pokémon Black and Blue, which you can play (at your own discretion of course) here.
Let it be known that I am biased here, because I both strongly disagree with PETA (you can find out why here if you care to) and I also happen to be a huge fan of the Pokémon franchise, but if we're going to take a step back from my biases, we might say that PETA is pulling the same stunt as anyone who has ever said that video games cause violence. That's just plain wrong. Never mind the argument that video games are in fact correlated to violence, there isn't even a correlation between Pokémon and animal cruelty because pokémon are fictional creatures. Not only that, but they seem to have their priorities all mixed up since they can say that animal rights are important, even though they endorse the torture and harm of fellow human beings.
Anyways, I'm going to stop ranting about PETA and let you guys tell me your thoughts. Are PETA right to protest the animal abuse within the Pokémon games?
Female Expendables Movie
So as most of us have already heard, there's going to be another take on the Expendables movie on the way. The twist with this one is that it's going to center around female action stars.
We don't have much detail to go on yet except that it's being released by Lionsgate, the screenplay is written by Dutch Southern, and currently includes Katee Sackhoff (of BSG fame), and Gina Carano (of American Gladiators and MMA fame).
Without more details, it's hard to anticipate anything, but if Sackhoff and Carano are in it, I'm definitely looking forward to it.
The Hobbit is Making Waves in New Zealand
With the upcoming release of the Hobbit movies, everyone (especially BoxOfficeBUZ's very own mernwyn) is doing all they can to prepare for the movie release days, from rereading  the books to coming up with cos-play, or, if you happen to be New Zealand, releasing commemorative coins and stamps.
The stamps and coins, as seen on Cheezburger.com, are to be released November 1st, and look freaking beautiful.
Live Action Halo 4 Series
So, I don't think I need to say too much more about this than sharing the actual video.
Actually, I think I'm going to put in my two cents worth here. First off, it's not as complex a story as I would have liked, but I guess you can't have it all. It does do a really good job though, and it's super awesome that you get to see behind the  helmets. I think this is a series to look forward to.
Other Stories to Check Out:
Wanna see some other cool stuff that happened this week. Check out the surprise links below!
Surprise link 1Surprise link 2Surprise link 3
This Week In BUZ
Here are this week's episodes of BUZ Banter and Movie Feuds.